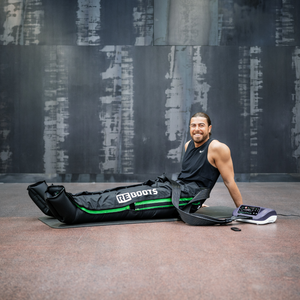 Now also available for One & One Pro
Take your recovery to the next level now!
🔥 BRAND NEW - THE NEW REBOOTS PANTS 2.0
WITH PANTS 2.0 TO
PERFECT FIT
EXPERT RECOMMENDATION
REBOOTS ONE WITH PANTS 2.0
Take your regeneration to the next level now and get the new Reboots One Pants 2.0 set .
✔️ Perfect fit tailored to you
✔️ More cycles per massage in the same time
✔️ Better massage quality

Only for a short time and while stocks last.
TO THE PRODUCT →
3 ZIPPERS
PERFECTLY TAILORED TO YOU
Adjust the Pants 2.0 perfectly to your needs!
By using three separate zippers for each upper and lower leg, the leg circumference can be adjusted to the individual anatomy for the first time. This distributes the pressure more evenly on legs of different circumferences and increases the quality of the massage .
The perfect fit and the overlapping compression chambers ensure that more passes per massage are possible in the same time .
Experience the perfect massage with the Reboots Pants 2.0 and say goodbye to sore muscles and a drop in performance!
Thanks to the perfect fit and powerful compression chambers, you can reach even the deepest muscle layers and improve your performance during training.
Treat yourself to the next level of regeneration with the Reboots Pants 2.0!
MORE MASSAGE, MORE PERFORMANCE
Complete regeneration massage
Every millimeter of your leg is reached through the effective massage of the Pants 2.0. Due to the overlapping compression chambers, there are no gaps, which guarantees optimal coverage.
The comprehensive compression ensures lasting light and fresh legs and optimal recovery.
Frederic Funk
triathlete
★★★★★

"Sporting success is significantly influenced by the right regeneration. With Reboots, I give my body excellent support to regenerate in the best possible way. With Reboots by my side, I always come closer to my goal of winning the biggest races in the world."
Leon Vockensperger
Snowboard freestylers
★★★★★
"I don't snowboard because I love collecting medals, I collect medals because I love snowboarding. So that I can make my dream come true (...) the right regeneration is incredibly important. Reboots supports me as a recovery partner their innovative regeneration solutions"
Anne Haug
Ironman World Champion
★★★★★
"It's not just about training, it's also about what you do after training. It's very important that you recover properly, otherwise you can't improve."
Our product development team has not only worked on the functionality, but also raised the material and design to a new level. The Pants 2.0 are made of TPU nylon with a honeycomb structure, which ensures special resistance and robustness.
TAKE YOUR REGENERATION TO THE NEXT LEVEL NOW
Save €160 now on our bestselling opening offer!
SAVE MONEY WITH REBOOTS SWAP
SEND IN YOUR OLD DEVICE AND SAVE MONEY
With Reboots Swap we sponsor your new reboots. So you can easily exchange your boots for the brand new Pants 2.0 and only pay the difference.
MORE ABOUT REBOOTS SWAP