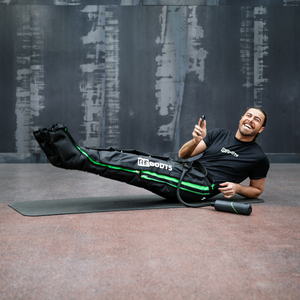 TAKE YOUR POWER NAPS TO THE NEXT LEVEL!
REBOOTS RECHARGE SET: PILLOW & BLANKET
MORE THAN JUST PILLOWS AND BLANKETS.
GENTLE & HIGH QUALITY
SUITABLE FOR EVERY SITUATION
RELAXING NAPS, always and everywhere
An athlete's lifestyle often requires quick reactions and flexibility. That's why the Recharge Set is perfect for your regenerative nap on the go, wherever you are. With its small pack size, it fits easily in your suitcase or sports backpack.

✔ Test it now risk-free thanks to the 30-day money-back guarantee
OUR COMFORT PLUS TECHNOLOGY
IMPROVED SLEEP QUALITY
The pillow's ergonomic memory foam provides beneficial pressure relief , while the Smartcel cover with zinc oxide provides freshness and regeneration . The pillow is pleasantly soft and makes your power nap particularly pleasant and ergonomic.

The blanket is incredibly soft and, with the Smartcel fiber, ensures excellent moisture management and regulates your body temperature excellently. The Recharge Blanket is thin and light , but still keeps you warm thanks to its thermo-regulating properties .
"Sleep is one of the most important activities for the human body. While we sleep, our body recovers and our brain can rest and regenerate. Getting enough sleep is important to stay healthy and perform well ."

In addition to getting a good night's sleep, naps can help keep us refreshed and productive during the day.

With our brand new Reboots Recharge Set you have your faithful companion who always supports you in taking a relaxing power nap in a relaxed and comfortable way - no matter where.
EXPERIENCE DREAMY POWER NAPS
STOP SLEEPING PROBLEMS
Our Pillow is the perfect support for your head and neck , so you wake up refreshed and energized every time. The pillow is made of high quality memory foam, which is breathable and comfortable .

Get our Recharge Set now and enjoy the ultimate convenience and support you need to quickly recharge your batteries - wherever you are.
Frederic Funk
triathlete
★★★★★

"Sporting success is significantly influenced by the right regeneration. With Reboots, I give my body excellent support to regenerate in the best possible way. With Reboots by my side, I always come closer to my goal of winning the biggest races in the world."
Leon Vockensperger
Snowboard freestylers
★★★★★
"I don't snowboard because I love collecting medals, I collect medals because I love snowboarding. So that I can make my dream come true (...) the right regeneration is incredibly important. Reboots supports me as a recovery partner their innovative regeneration solutions."
Anne Haug
Ironman World Champion
★★★★★
"It's not just about training, it's also about what you do after training. It's very important that you recover properly, otherwise you can't improve."
The easiest way to regenerate
MORE THAN JUST A PILLOW
✔️ High quality memory foam for ergonomic lying and ultimate comfort like on clouds
✔️ Particularly pleasant and restful sleep thanks to Comfort Plus technology
✔️ Try it risk-free: 30-day money-back guarantee
TO THE RECHARGE PILLOW →
Our product development team has not only worked on the functionality, but also raised the material and design to a new level. Sleep like on clouds: with the comfort plus technology and the high-quality memory foam, your sleep will be even more pleasant.

The pillow is suitable for every sleep type :
✔️ Side sleepers
✔️ Back sleepers
✔️ Stomach sleepers
Regeneration according to your taste
RECHARGE SET - Blanket + Pillow
✔️ For the best sleep quality : ideal fit for every sleep type
✔️ Perfect for traveling due to the compact pack size and the carrying bags provided
✔️ Our comfort plus technology : thanks to the high-quality memory foam and the innovative Smartcel fibers , your sleep will be even more pleasant and restful
TO THE PRODUCT →